DACO Signs Agreements for Baggage Handling System & Fire Safety
07 May 2018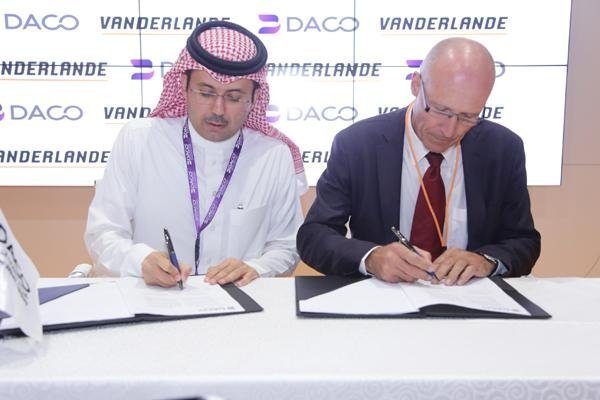 Source: Zawya

Dubai, UAE – With the objective of enhancing King Fahd International Airport's operational efficiencies to meet growing demand, Dammam Airports Company (DACO) has signed two strategic agreements with Vanderlande and Serco Middle East at the 18th Airport Show, taking place in Dubai, UAE.
As part of DACO's agreement with Vanderlande, the global market leader for value-added logistic process automation at airports, the two entities will work on introducing a state-of-the-art Baggage Handling System (BHS) at KFIA that will help make travel procedures smoother for airport personnel, passengers and airlines.
"Our top priority at Dammam Airports Company is to contribute to the development of state-of-the-art aviation infrastructure in the Kingdom through a series of strategic developments at King Fahd International Airport. Guided by our vision to transform airports and redefine the travel experience, our efforts in the last 10 months have focussed on expanding the airport's operational efficiency, as it witnesses a steady growth in passenger traffic and an increased demand for commercial services. We are pleased to partner with global leaders like Vanderlande and Serco Middle East to execute our long-term plans for the airport, and transform it into a major hub for air transportation within the region and beyond," said Mr. Turki Abdullah Al-Jawini, CEO of DACO.
"Saudi Arabia's aviation sector is poised for tremendous growth as the Kingdom enhances its position as a prominent regional hub for transportation and logistics. Vanderlande is pleased to support the Dammam Airports Company in its efforts to create a world-class airport experience and seamless travel experience for the airport's growing passenger traffic. Our state-of-the-world Baggage Handling System will not only boost the facility's operational efficiency, but also positively impact all aspects of the passenger journey," said Mr. Remo Brunschwiler, CEO, Vanderlande.
DACO has also signed an agreement with Serco Middle East, a leading provider of public services, to install cutting-edge fire and rescue services at the airport. The contract, which makes KFIA the first Saudi airport to leverage an international service provider's expertise in firefighting systems, will help raise the airport's safety standards in line with its existing firefighting protocols.
"As a globally recognized fire and rescue services provider, Serco is pleased to enter this agreement with Dammam Airports Company that has been mandated to oversee the operations of the King Fahd International Airport. Passenger safety and security are among the most critical aspects of airport operations, and we are delighted to utilize our industry-leading expertise in providing cutting-edge fire and rescue solutions to enhance the airport's security procedures," said Mr. David Greer, Chief Executive Officer, Serco Middle East.
In keeping with DACO's commitment to investing in national human capital, the two agreements will also enable Saudi talent to gain professional qualifications in airport management services through comprehensive training in baggage handling by Vanderlande and the operations of fire and rescue services by Serco Middle East.
About Dammam Airports Company (DACO)
As part of the Vision 2030 Kingdom and the national transformation program, on 1 July 2017 King Fahad international airport has been corporatized and the management of the airport has been transferred under a new established company under the name of Dammam Airports Company "DACO" based in Dammam.
The launch represents "DACO" part of the vision 2030 for the advancement of airport industry, beginning of operation King Fahd International Airport, extending their services to other airports in future internal and external.
Targeting infrastructure development, operation and development of airport facilities and maintenance, commercial and investment relations manager, run the airway facilities, and raise the operational capacity and practical efficiency of airports to keep pace with the development of industry, and provide a pleasant travel experience for travelers, focusing Investment in national youth energies.
About Serco Middle East
Serco are public sector experts who specialize in the delivery of essential public services with over 50,000 people working across the world in defence, transport, justice, immigration, health, and other citizen services across national, state and local government.
About Vanderlande
Vanderlande is the global market leader for value-added logistic process automation at airports, and in the parcel market. The company is also a leading supplier of process automation solutions for warehouses.
Vanderlande's baggage handling systems move 3.7 billion pieces of luggage around the world per year, in other words 10.1 million per day. Its systems are active in 600 airports including 13 of the world's top 20. More than 39 million parcels are sorted by its systems every day, which have been installed for the world's leading parcel companies. In addition, many of the largest global e-commerce players and distribution firms have confidence in Vanderlande's efficient and reliable solutions.The company focuses on the optimization of its customers' business processes and competitive positions. Through close cooperation, it strives for the improvement of their operational activities and the expansion of their logistical achievements. Vanderlande's extensive portfolio of integrated solutions – innovative systems, intelligent software and life-cycle services – results in the realization of fast, reliable and efficient automation technology.Established in 1949, Vanderlande has more than 5,500 employees, all committed to moving its customers' businesses forward at diverse locations on every continent. With a consistently increasing turnover of more than 1.4 billion euros, it has established a global reputation over the past six decades as a highly reliable partner for value-added logistic process automation.